The best products to complement our extensive plant range!
Stone Cross Centre has developed an inspiring range of gardening giftware and decorative items that are just that little bit different. Our Gift Shop offers a stylish range of ornaments, windchimes and childrens gardening gifts, reflecting the seasons and outdoor living. The price range is aimed at suiting all pockets, whilst retaining our reputation for quality and good taste!
We also stock many products all year round such as tools, pots and containers, hanging baskets, chemicals, fertilizers, bird tables, feeders and food, bulbs, seeds and composts and a wide range of garden sundries, as well as ranges of wood and woven garden furniture. In the main building we have seasonal displays offering lots of choice, for example; garden ornaments and summer bulbs.
We believe we have the very best and up to date terracotta pots, stoneware and ornamental stone products including bird baths and stone seats, pots and animals.


Come and see our furniture showroom, packed to the brim with new lines of wooden and stylish metal outdoor furniture. We also sell AquaCreations water fountains.

We have many multibuy discounts on a range of composts, bark and manure.


Free Delivery on Purchases over £100
We offer a full local delivery service twice weekly on Tuesday and Saturday. Our local delivery areas include: Eastbourne, Seaford, Hailsham, Battle, Cooden, Bexhill and Hastings. Charges start from £5.00 and are FREE for most purchases over £100 within a 15 mile radius.
---
Our gift area is home to a wide range of decorative pots, windchimes, cuddly toys, ornaments and much more!
Our high-quality chimes can be used indoors or out, and are available in a wide range of sizes, colours and designs and each one is precision-tuned. We also sell beautiful bamboo chimes; perfect for those who prefer a subtler, more natural sound.
We keep a wide range of ornaments in stock, and all can be used indoors and out.
Don't forget about our solar lights section! Everything from owls with light-up eyes to dragonflies and butterflies, as well as lights on strings, you are sure to find the perfect night-time lighting soloution for your garden.
---

We hold stock of a huge range of garden sundries. We have a large chemicals section stocked with fertilizers, weed killers, lawn seed, pest control products and others, such as hydrangea colourant and rooting powders.
We stock plastic and terracota pots, troughs and baskets, basket liners, seeds and a vast range of tools.
---

In our bird care area, we have everything you need to keep your feathered friends in top condition. As well as regular seed and peanut feeders and food, we also stock specialist products such as nijer seeds, suet pellets, mealworms and food for ground-dwelling birds.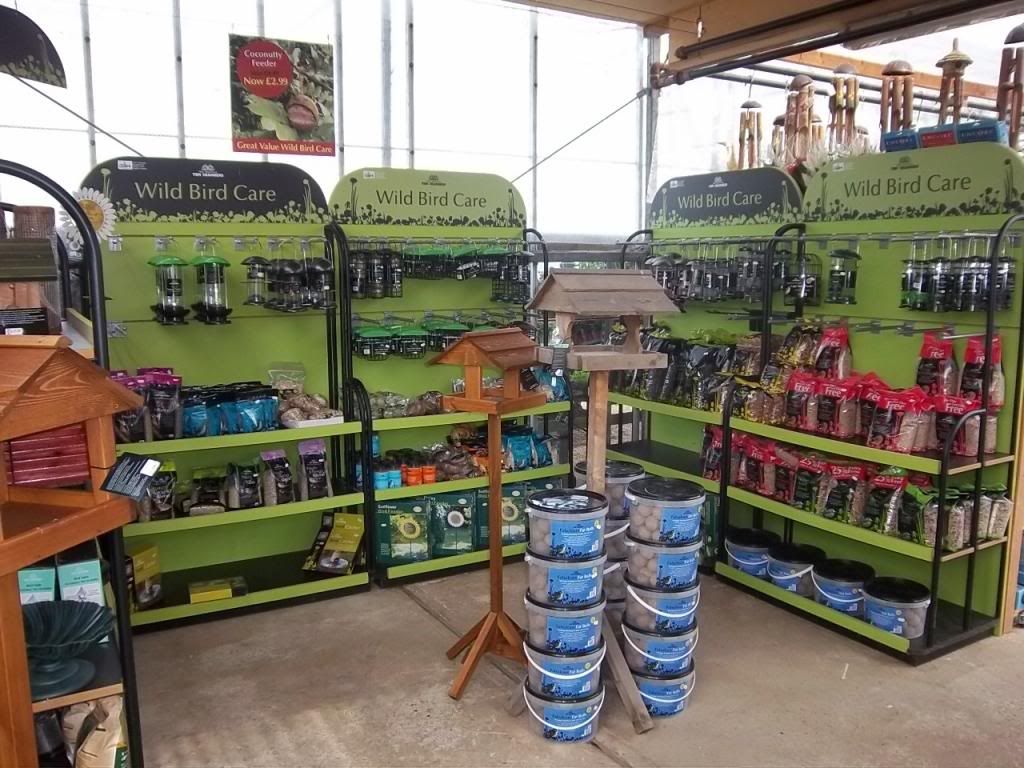 ---
ALSO AT STONE CROSS
Our till staff regularly help on the other sections so they have a good general knowledge of gardening too.
Outside we have a range of composts, barks and soil conditioners year-round. The wood product section has all the new forms of fencing, trellis, furniture and extras needed to create a natural garden.
We also have a large selection of stoneware, including stone benches, bird tables, mirrors and ornaments.
Take a look at our bird and wildlife products, recently expanded range of Quality Feeders and have increased our range of Wild Bird Food. We stock seeds to suit every bird's taste, including mixes, sunflower hearts and nijer seeds. We also stock a good range of feeders and tables, as well as stoneware bird baths to suit every taste.